So I legitimately almost died from fear last night. We were searching for beavers in the dark, and found about six million of them. In the lake.
Where they belonged.
But then the bushes started rustling on the opposite side of the walkway from the lake. And, obviously, my brother, cousins, mother, aunt, and myself all started screaming and swinging the flashlights around like crazy people. But, as it turned out, our portion of the walkway was right over a
beaver trail.
The beaver in question was harvesting branches from the other side of the walkway, and then dragging them through his tunnel down to the waterfront.

Whew.
Mystery solved.
There are an exceptionally large number of beavers in Coppell, Texas. Today, on a nature walk through "the jungle," we hit the beaver dam mother load.
I'm fairly certain this is where the mutant three hundred pound beavers live. So I stayed
the fuck away from there.
However, my hesitation did not stop my intrepid young cousins from venturing into mutant beaver territory. This is not surprising, considering my youngest cousin brought home this in his pocket today: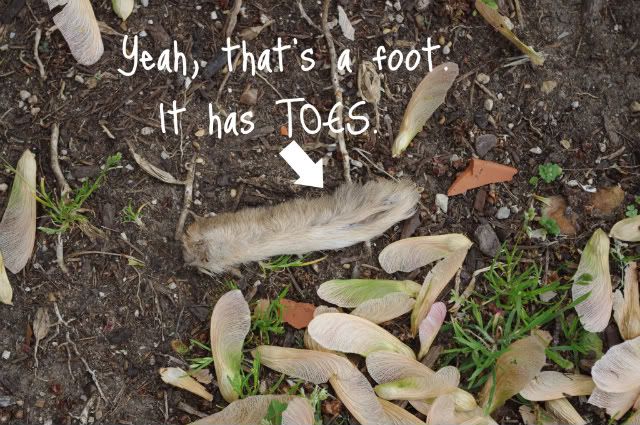 Unfortunately, I thought that thing was a piece of plant matter, and I tried to demonstrate to my cousin that it wasn't a squirrel tail (as he suspected). I picked it up off the ground and discovered that the "plant," though flat, most definitely had distinctive toes and claws.
OH MY GAWD.
Dear friends, if I start foaming at the mouth at your next house party, please assume I have rabies and shoot me. Old Yeller style. Even though, honestly, I'm pretty sure you can't catch rabies from dead animal parts. But you can probably catch other things, which is why I almost burned off my own hands with hand sanitizer and soap. And also why I don't think you should hug or hold the hands of any males under the age of 13, because they are probably covered in disease from the dead animal paws they carry around in their pockets. Or maybe that's only my cousin.
The rest of our adventures where fairly mellow…
[
Little cousin is scary good at finding body parts of dead animals. It's bordering on obsession, and I'm getting concerned.
]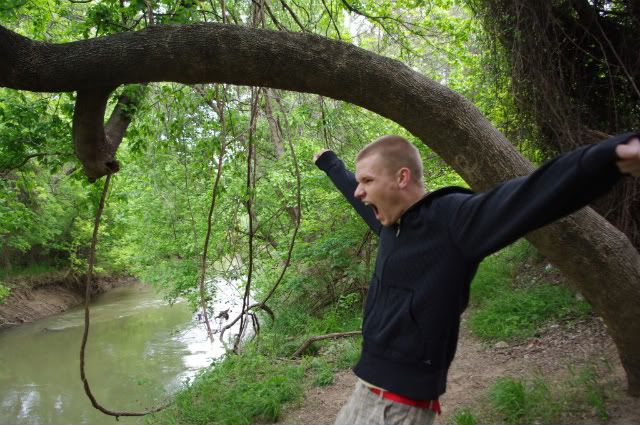 [
My brother is king of the mother fucking forest, yo.
]
…and my family fully embraced the idea of a dead piranha tagging along.
Also, I'm sure a lot of you have heard stories of my very peculiar eleven year old cousin. So, just to prove that I'm not one to over exaggerate (well, at least not all the time) here is video proof of the insanity:
The Back of Your Head from Brittany Swanson on Vimeo.
Have an excellent weekend, dear readers.